Top places in North Vietnam
North Vietnam takes its pride of Hanoi's charming capital, majestic mountain ranges, mist-entwined peaks, lush valleys, centuries-old rice terraces, diverse ethnic groups and turquoise stunning islands. No matter where you go, you will definitely find something special here. Let's plan a trip with Vietnam Travel Tour's list of top must-visit places in North Vietnam.
1. Hanoi
It is undoubtedly that Hanoi is definitely a must-visit place in North Vietnam. Its well-preserved French colonial buildings, ancient oriental pagodas, historic temples, unique museums, peaceful lakes and a lot of other amazing spots will leave you enchanted. This capital city is a perfect place to explore on foot or take a cyclo to stroll through hidden alleyways and bustling markets of Hanoi's charming Old Quarter, try local specialties and sample delicious Vietnamese cuisine just like the way the locals do. Hanoi is an eclectic mix that offers something for everyone. Be sure to allow a minimum of 2 or 3 days to discover the hidden beauty of Hanoi and visit all key sites here such as the Ho Chi Minh Complex, the Presidential Palace, the nearby One Pillar Pagoda, the Temple of Literature – the 1st university of Vietnam, West Lake, the sedate Tran Quoc Pagoda, Quan Thanh Temple…
2. Ninh Binh
Often referred to as "Halong Bay on land", Ninh Binh is another worth-visiting place in North Vietnam. Only 2 hours driving from Hanoi, Ninh Binh is an ideal option for a day trip if you do not have much time. Any trip to Ninh Binh should certainly include a boat trip in Trang An or Tam Coc to admire limestone formations, lush foliage and relaxing landscapes along peaceful river waterways through a series of dark grottoes. It takes about 2 hours. Other than that, you can visit some highlights in Ninh Binh such as Bai Dinh Pagoda – the largest pagoda in Vietnam, Bich Dong Pagoda, Hoa Lu Ancient Capital, Phat Diem Cathedral, Mua Cave, and Cuc Phuong National Park.
3. Mai Chau
With a close proximity to Hanoi, Mai Chau is a wonderful place to get away the bustling city life and experience the tranquility of the mountainous village. You can choose to relax at Lac or Poong Cong villages, rent a cycle to ride around the rural villages, through rice paddies and you find your own peaceful moments. Besides, this beautiful mountainous area with thick jungle, bamboo groves, tea plantations and waterfalls lends itself to fantastic walks and short treks to remote ethnic villages such as Hang Kia, Pa Co…
White and Black Thai people are the biggest ethnic groups in this region who build and live in wooden stilt houses. It is highly recommended to spend at least one night at stilt house homestay to gain an insight into the local customs and culture. You have chance to interact with local people, join dinner with the host and enjoy traditional dance in the evening.
4. Sapa
Sapa makes a statement with the surrounding mountains, the beautiful terraced rice fields as well as the richness of cultural diversity with many ethnic minorities. It is no better than taking a guided hike through yawning valleys decorated with terraced rice fields and pass through remote hill tribe villages like Cat Cat, Y Linh Ho, Lao Chai, Ta Van, Ta Giang Phinh… Ethnic local market is also an ideal place to experience the daily life and familiarize yourself with the cultures of the H'mong, Dzao and Dzay people who populate the region. You can spend time to visit Bac Ha market on Sunday, Coc Ly market on Tuesday, Can Cau market on Saturday… with a variety of goods from local fruits, vegetables, honey and corn wine to colorful fabrics, clothes and embroidered items, horses, cows and buffalo.
5. Ha Giang
Ha Giang is a mountainous province in northeastern Vietnam, about 300km from Hanoi. It shares a 270km long border with Yunnan province of southern China, and thus is known as Vietnam's final frontier. Nearly 90% of the population in Ha Giang is ethnic minorities who create a unique and rich cultural heritage of the area. Traditional practices and habits of these ethnic groups are very diverse and interesting helping attracts many travelers who are keen on exploring these unique aspects.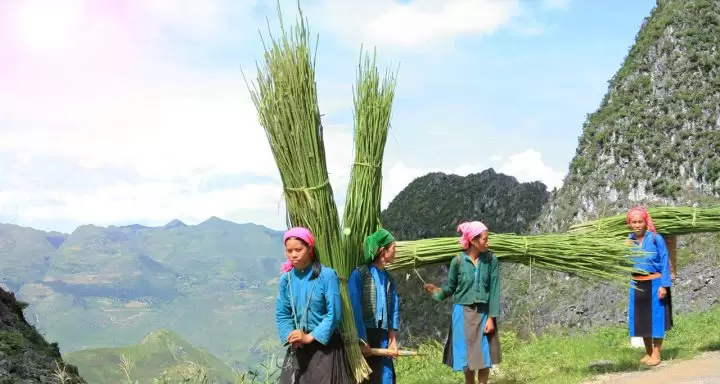 Ha Giang is best explored as a road trip on two wheels, soaking up the majesty of the landscape and the atmosphere of the remote towns and minority villages. The trip from Yen Minh to Dong Van Karst Plateau Geopark, then across Ma Pi Leng Pass, one of 4 great passes in Vietnam to Meo Vac will surely give you the unforgettable experience.
6. Cao Bang – Ban Gioc Waterfall
Located in a remote area of Northern Vietnam, Cao Bang is well-known for its high biological diversity with abundant endemic flora-fauna species and ecosystems with 5 major river systems and 47 lakes. It is home to 9 different ethnic groups, namely, Tay, Nung, Mong, Kinh, Dao, San Chay… and each minority has its own special crafts, traditional festivals, folk arts, traditional customs and way of living. It makes Cao Bang more famous for its culture richness.
Cao Bang offers numerous outstanding landscapes and historical sites that you should not miss such as Pac Bo historical site, where President Ho Chi Minh lived and worked the early days to lead Vietnam's revolution; Ban Gioc waterfalls, the largest breathtakingly majestic waterfalls in Vietnam, Nguom Ngao Cave, Thang Hen lake system, Phat Tich Truc Lam Ban Gioc Pagoda and etc.
7. Halong Bay
No visit to the North Vietnam is complete without a trip to Halong Bay, one of the Seven World Wonders of Nature with over 2,000 limestone islands and cliffs. Though there are many ways to explore Halong Bay, it is best to board on an overnight cruise which entitles you to soak up the spectacular scenery. You have chance to get a close touch to natural and magnificent beauty of many karst cliffs, rocky spires and hidden caves as well as admire the vaporous clouds of mist, clear turquoise water. Spending time to relax and enjoy a cocktail on the sundeck is not a bad idea. But for those who are looking for some interesting activities, Halong Bay has to offer, including: visiting fishing villages by rowing boat, kayaking around the bay, exploring hidden caves, swimming, squid fishing at night…
8. Cat Ba Island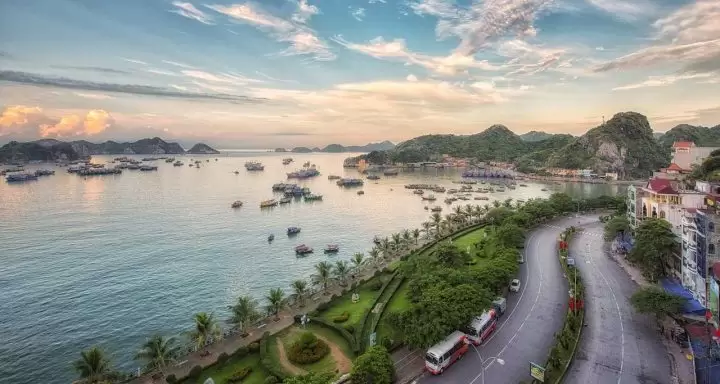 Surrounded by Bai Tu Long Bay and Ha Long Bay, Cat Ba Island appeals a number of travelers who want to explore its beautiful natural scenery of sea and island. It features on three beautiful Cat Co cove beaches which boast the soft yellow sand and crystal clear water, luminous waves and bracing winds. While Cat Co 1 and 3 are linked by a cliff side path that's a great to stroll anytime, the other is quieter, more pristine and perfect for romantic getaways. Here tourists can take part in some adventurous activities such as taking a motor boat or kayaking to sail to small islets, hiking through the national park or cycling around the island. Cat Ba Island is best to visit from April to November when the weather is perfect for beach break. But it is very crowded in summer time between June and August with a lot of domestic tourists and hard to book accommodation.