Hoa Lu Ancient Capital
Hoa Lu, capital of Vietnam from 968 until 1010, which was located in Ninh Binh District from Hanoi 98km. It is not only known as the ancient capital with many valuable historical sites but also an attractive destination, which is waiting for you to discover. Tourists visiting Hoa Lu Capital will have a chance to learn more about this land – an ancient and famous imperial city but still retaining many glorious relics.
Main Gate to Hoa Lu Ancient Capital
Hoa Lu ancient capital is located in Truong Yen ward, Hoa Lu district, Ninh Binh province. It was the capital of Dai Co Viet – ancient Vietnamese kingdom more than 10 centuries ago through 3 dynasties (Dinh, Tien Le and Ly). After King Ly Thai To decided to move to Dai La (Ha Noi), Hoa Lu became the ancient capital. Although it was no longer the actual imperial capital, at that time, people still went there for renovation and new construction of more cultural and historical monuments in this place.
King Dinh Temple in Hoa Lu
Impressively, Hoa Lu ancient capital is a unique architecture – complex in Ninh Binh province that has been recognized by UNESCO as one of four main areas of Trang An World Heritage Complex. It is also listed as an important national place of Vietnam, which needs to be particularly preserved.
The total area of Hoa Lu is 300 hectares, stretching throughout the areas of Chi Phong, Yen Thanh and Yen Thuong villages in Truong Yen ward, Hoa Lu district. The ancient capital is devided into three main areas: Outer Citadel, Inner Citadel and South Citadel. In the area of the ancient capital of Hoa Lu, there are still 678 relics and antiques with historical, cultural and scientific values.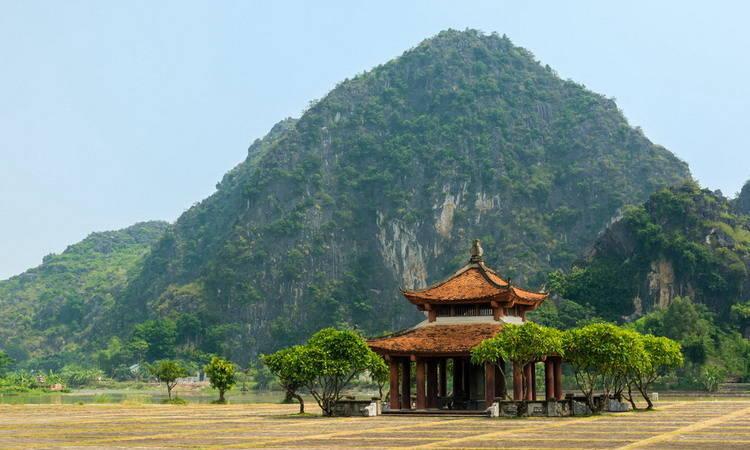 Exploring the Outer area, visitors will enter Yen Thanh village of Truong Yen ward. Outer Citadel is a city outside the Phi Van mountain range, also the center of the old capital, where King Dinh and King Le built magnificent palaces. There are two most important relics still retaining: King Dinh Tien Hoang's temple and King Le Dai Hanh's temple, which were constructed with sculpture on stone and wood in the 17th century. Outer citadel's area is about 140 hectares.
Inner Citadel locates inside Phi Van mountain range, with the equivalent area to the outer one. This is also the place where the royal palace was built, belonging to Chi Phong village, Truong Yen ward today.
Besides, Hoa Lu ancient capital is not only a historical area with high value in terms of culture – history, but also a place with famous landscapes and breathtaking views of mountains, caves and river; making this place so unique and beautiful.