Where to stay in Halong Bay?
Halong Bay is absolutely a must-visit place in North Vietnam. Listed as UNESCO World Heritage Site, Halong Bay appeals to both local and foreign visitors thanks to its magnificent natural beauty. In Halong Bay, visitors could choose to stay at hotels or resorts in Bai Chay, Hon Gai (Halong City), Tuan Chau island, Reu island, Cat Ba island… or stay overnight on one of more than 2 hundreds cruises on the bay.
Stay at hotels & resorts inland
As one of the most famous destination in Vietnam that tourists should visit at least once, Halong Bay offers a lot of hotels and resorts in all ranges. Staying inland is the best option if you want to take it slow and have plenty of rest. On the daytime, you can visit famous highlights in Halong City such as Quang Ninh Museum and Library, Hon Gai Church, Long Tien Pagoda…, or take a day cruise to get closer touch to this World Heritage Site. During the evenings, remember to wander round the night market and try some local foods here.
Below are some recommended hotels and resorts you can consider to choose for your stay in Halong Bay:
Vinpearl Resort and Spa Halong (5-star)
Vinpearl Resort & Spa Halong is located on Reu Island in the Halong Bay Complex, highlighted by a gigantic picture of gorgeous nature. It is inspired by Rennes Opera House in France, with a bow-shaped design that gradually embraces the sea to create a unique charm in full harmony with nature. This resort offers an exceptional experience with a wonderful seaside holiday and easy access to famous attractions in Halong Bay.
Wyndham Legend Ha Long (5-star)
Wyndham Legend Halong is the first hotel in Bai Chay claimed the international five-star standard by a global hotel chain of Wyndham Hotel Group. Located in the most beautiful coastline of Halong Bay, the hotel boasts the incredible and panoramic views of the World Natural Heritage Site, Bai Chay Bridge, Sun World Park.
Designed in modernity and ultra-comfort, Wyndham Legend Halong offers expansive meeting spaces, a variety of dining options, exceptional services, and premier amenities. Along with 450 spacious rooms and suites in parallel towers, the hotel delivers world-class standard to both business travelers and leisure guests.
Royal Lotus Halong Resort and Villas (4-star)
Situated within Halong Marina Urban Area, Royal Lotus Halong Resort and Villas inherits a golden spot at the heart of Halong's busiest sections. Multiple tourist attractions such as Little Vietnam Culture Town, Halong Marine Plaza, Tuan Chau Recreation Complex, Sun World Halong Park… are only few minutes away. Inspired by global green living trend, this hotel is a unique fusion between luxurious ambience and spectacularly beautiful nature.
Novotel Halong Bay (4-star):
Novotel Halong Bay was opened in 2008 and has become the best 4-star international hotel in Halong for its service and convenience. Located next to the famous Bai Chay Beach and near other attractions in the city center, this hotel is a great choice for both leisure and business travelers. The hotel has a total of 225 rooms following chic contemporary design with a distinctive Asian touch, which brings comfort and elegance for visitors.
Halong Plaza Hotel (4-star)
Ideally located in the Halong City, Halong Plaza Hotel combines warm welcome and excellent services to provide the ideal venue for business and leisure travelers. All 200 rooms and suites are stylishly furnished with modern and luxurious facilities, especially designed for scenic views of Halong Bay and Bai Chay Bridge. The hotel features Vietnamese, Japanese, Western, and Thai specialties created by Thai chef. Besides, there are many various types of activities such as exercising in the fully-equipped fitness center, soaking up the fun in our swimming pool, enjoying traditional and modern massage in our tranquil massage room or play billiard with friends.
Muong Thanh Luxury Quang Ninh Hotel(4-star)
Situated in an ideal location with a dynamic panoramic view of Halong Bay, Muong Thanh Luxury Quang Ninh Hotel is a great base from which to explore this vibrant city. The hotel offers 508 well-appointed rooms and suites, with luxurious space, cozy interior, fully equipped with modern facilities, giving tourists the best stay in Halong. It is also committed to provide the utmost convenience and comfort to business, leisure travelers and convention.
Ho Chi Minh City Halong Hotel (4-star)
Ho Chi Minh City Halong Hotel is one of the leading 4-star hotels in Ha Long City. Located in the heart of Bai Chay tourist area, the hotel possesses sweeping views of Halong Bay World Heritage. From here, visitors can easily access all the major tourist attractions of the city such as Halong Bay, Sun World Halong Complex and Bai Chay Beach.
Above is a few to name. There is a multitude of hotels, hostels and even homestays in Halong Bay. Depending on your budget and interests, you can easily choose and book one that suits you best.
Overnight on island
Staying overnight on the island of Halong Bay might be an interesting experience, especially for nature and adventure lovers. Halong Bay is famous for over 1600 amazing islands but there are just a few of them which allows you to spend a night. Here you can swim whenever you want, go trekking and try cheap but delicious local seafood. Besides, the islands also are well-equipped so there are many activities you can enjoy during your stay such as snorkeling, kayaking, camping, trekking…
Cat Ba Island
Cat Ba is the largest and most popular island in Halong Bay. It attracts a huge number of tourists coming to explore the beautiful natural scenery of sea and island every year. Just a 10-minute walk southeast from Cat Ba Town, you will reach three beautiful Cat Co cove beaches which boast the soft yellow sand and crystal clear water, luminous waves and bracing winds. If you prefer something more adventurous, you can hire a motor boat or kayak to sail to small islets, hike through the national park or cycle around the island.
Some accommodations on Cat Ba Island:
– Hôtel Perle d'Orient Cat Ba – Mgallery (5 star)
– Cat Ba Sunrise Resort (4 star)
– Cat Ba Island Resort & Spa
– Cat Ba Sandy Beach Resort
Co To Island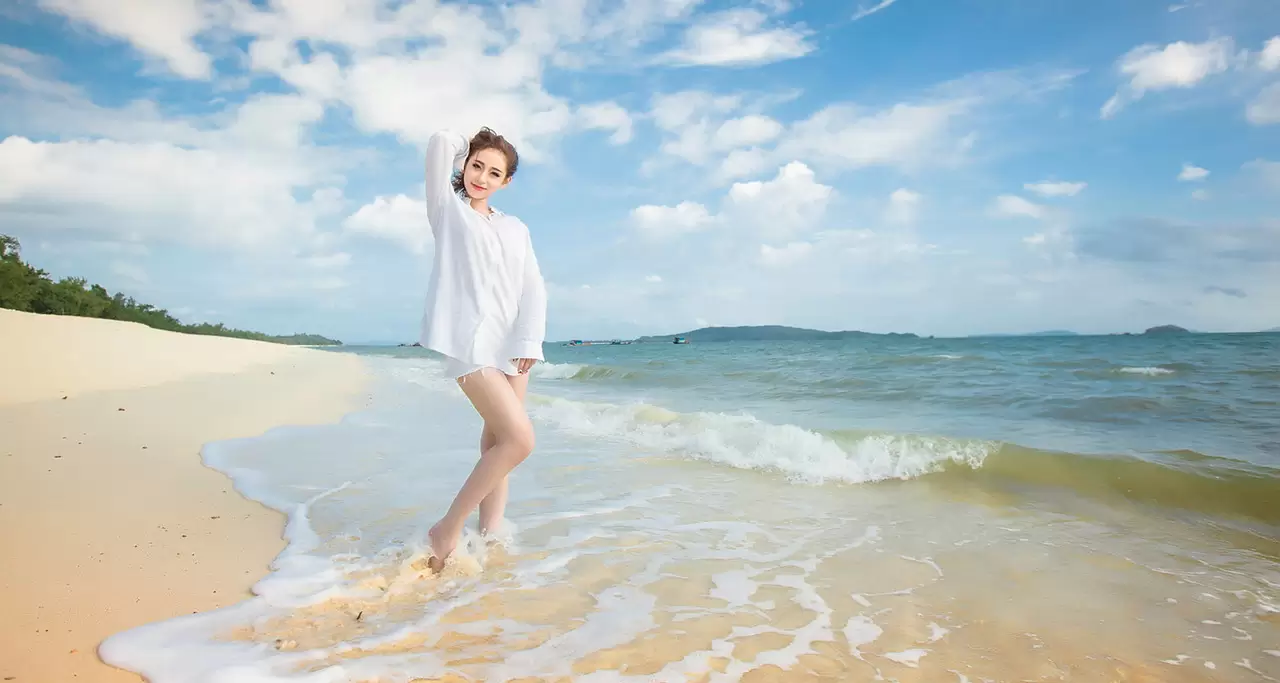 Co To Island is still somewhat undiscovered by tourists. The main draws are its turquoise waters, white sandy beaches, rocky cliff faces, green forest, and delicious fresh seafood. As it is relatively quiet and not very developed, this island is great for those who wish to explore…
The number of hotels in Co To Island has been steadily increasing over the past 2-3 years. Hotels, hostels and homestays are available around the port and in Co To Town. The price varies from 15 – 40 USD per room. Co To Eco Lodge comes in highly recommended with 12 small rooms, located just 150m from Hong Van Beach.
Quan Lan Island
Like an off-the-beaten-track option, Quan Lan Island is a hidden gem of Halong Bay. There are 3 pristine beaches for tourists to get immersed in the fresh water: Quan Lan, Minh Chau and Son Hao. The accommodation on this island is just simple and basic. Minh Chau Pearl Hotel & Spa is considered as the best 4-star hotel on Quan Lan Island. If you do not expect to luxury services, there are a wide range of hostel and homestays with reasonable price.
Overnight on cruise
Staying in a modern and comfortable hotel inland is a popular choice of almost travelers. However, in Halong Bay, you can make it different by pampering on an overnight cruise in the middle of the World Heritage Site with thousands of limestone karts. This is the way you truly "travel and enjoy" Halong Bay. A day cruise does not give you a chance to admire stunning sunset and sunrise on the bay, as well as go squid fishing at night right on the boats. Besides, you can do some Tai Chi exercise on the sundeck in the morning and take part in other interesting activities around the bay such as kayaking, exploring cave, visiting fishing village… or simply take a seat on the sundeck, sip a glass of wine/ cocktail and enjoy the fresh atmosphere and breathtaking view of Halong Bay.
Ranging from 3-star to 5-star and top luxury cruises with many different design styles from traditional wooden junk boats to big modern steel cruises. They are all well-equipped with air-conditioner, en-suite bathroom, comfy bedding in cabins and other services such as spa, massage, bar… There 2 two options for overnight cruises: 2 days 1 night and 3 days 2 nights. The itineraries are quiet similar but you will have more time to relax and explore Halong bay with 3-days program. A Halong Bay overnight cruise costs about 120 USD for a passenger per night, up to 300 USD or more for top luxury option. It is much expensive than staying at the hotels or islands since all services such as transportation, food, attraction fees, English-speaking tour guide… are included.
In addition, one thing you should put into consideration is to choose which part of Halong Bay you want to visit. There are 3 different visiting routes for overnight cruises: Halong Bay, Lan Ha Bay and Bai Tu Long Bay and each has some unique characteristics:
Halong Bay: Halong Bay is the traditional and most well-known visited route. For those who want to check out all of the most famous attractions in Halong Bay such as Sung Sot Cave, Titop Island, Cua Van floating market…, this route will be the best choice. It is much busier and crowded than the other two routes and at nights, most boats gather with all their lights on, making it like a floating city on the bay.
Bai Tu Long Bay: This route is relatively unexplored and the least touristy among three routes on the bay. It is most suitable for those looking a leisure trip and staying away from overcrowded attractions. Bai Tu Long Bay shares the same landscapes as Halong Bay but it is tranquil and cleaner.
Lan Ha Bay: Like Bai Tu Long Bay, Lan Ha Bay is a quieter and less visited alternative to Halong Bay.  This is a great option if you prefer to take it easy, enjoy your night in a quiet place, slow down and relax.
Wherever you choose to stay in Halong Bay, you definitely get memorable experience. In case you are still confused and does not come up with a decision, just contact us and our dedicated travel consultant team will give you useful advice!