Top Vietnam Tourist Attractions
Before planning a trip to Vietnam, you must do a lot of research to find out the top tourist attractions to visit. Thanks to such huge stretching from the North to the South, over 3200 kilometers, crossing various topographies, Vietnam holds in itself a collection of mountains, deltas, rivers, caves, lagoons, ocean, canals, hills. Vietnam Travel Tour lists 10 top destinations below which shows the best features of the country
1. Ha Long Bay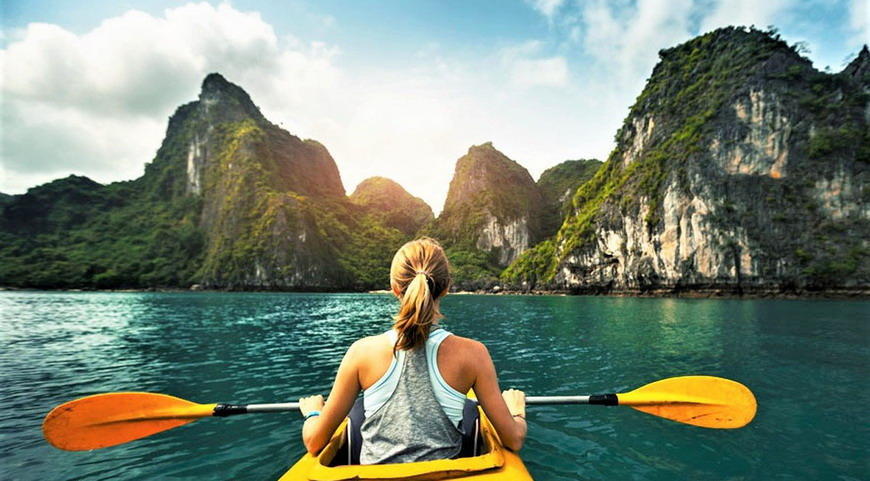 Leading the chart of the top tourist attractions in Vietnam should not be something else but the sensational Ha Long Bay. The UNESCO World Heritage Site added another sight to see in their list presenting the world's most spellbinding karst seascape, Ha Long Bay even twice. One was in 1991 and the other one was in 1998. Situated along the Gulf of Tonkin, there lies thousands of limestone islands scraped away by nature into breath-taking rock formations. It is highly recommended to spend an overnight tour to fully appreciate the iconic views this site has to offer. Most tourists are simply captivated with cruising along the karsts while more adventurous souls can explore a number of mammoth caverns such as the Sung Sot Cave or witness the glamorous stalagmites and stalactites in the Dau Go Cave.
2. Hanoi
Hanoi, the capital of Vietnam, attracts millions of visitors each year. Hanoi has a long history of 1000 years of culture and civilization that attracts visitors of its old age. Traveling to Hanoi, you cannot miss Long Bien Bridge (over 100 years old), Hoa Lo Prison (Hilton House), Temple of Literature, Bat Trang pottery village, Hoan Kiem Lake, Ngoc Son Temple and many different kind of museums such at Vietnam museum of Ethnology, Vietnam Fine Art Museum, etc. Besides, Hanoi Old Quarter is a favorite place of many travelers.
Above all, Hanoi local cuisine should not be forgotten. With just a four-hour food tour on the back of a motorbike, you will get to throw a feast like a real Hanoi an with the finest culinary essence of the Gulf of Tonkin.
3. Sapa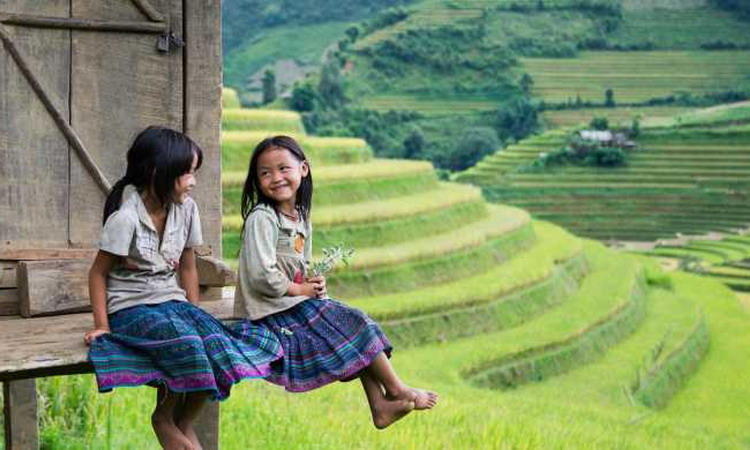 Sapa is located in Lao Cai Province, about 350 km northwest of Hanoi, close to the Chinese border. Traveling to Sapa to discover the north mountainous area of Vietnam with the Hoang Lien Son range of mountains, which includes Fan Si Pan—the country's highest peak. In Sapa, you can both enjoy the beauty of nature with stunning mountains, colorful paddy fields and experience our various culture of H'Mong ethnic minority. Here, travelers can spend their time hiking in the villages of Cat Cat, Y Linh Ho, Lao Chai and Ta Van Villages. If, you love to discover the remote village where less tourist travel, you can go to Can Cau Village to visit local market and Love market as well. After all, your memories to Sapa would be filled with the exotic cuisine, the colorful costumes of the ethnic minorities and the stunning of nature.
4. Ninh Binh
If Ha Long Bay is the rocky limestone destination in the northern far seas, then Ninh Binh is would be the equivalent on the mainland. Located around 95km south of Hanoi, Ninh Binh and its' neighboring area Tam Coc are filled with similar sights from the emerald green waters of Ha Long Bay. Being the perfect place to start an adventure around Vietnam and Cambodia, Nan Binh is a favored spot for tourists to post on social media, especially for its natural and untouched beauty.
In addition to the captivating natural features that Ninh Binh has to offer, the city is known to be the ancient capital of feudal Vietnam during the 11th century under the Dinh and the Early Le Dynasties. A two-day trip all around Ninh Binh would give you an ideal insight into how the ancient Vietnamese once ruled their country against the major outside force from China.
5. Phong Nha – Ke Bang National Park, Quang Binh
Located in Quang Binh province, central Vietnam, this mysterious land is endowed with breathtaking landscape of limestone mountain ranges, wild forests and stunning rivers. This place which is recognized by UNESCO World Heritage Site in 2003, famous for the largest cave in the world with whole ecosystems and forests within, called Son Doong cave. Son Dong cave is 5km long, 200m high and 150m wide. But it is not Son Dong, with more than 300 caves, many waterways, mountains and forests, Phong Nha – Ke Bang national park is now a famous destination for tourists from all over the world to trekking, hiking, cycling and kayaking.
6. Hue citadel
Knowing as the place of the last reign – Nguyen dynasty, Hue is considered one of Vietnam's most historic towns and the former imperial capital of the country. The emperor's residence, palaces, and temples are some of the historic sites left standing inside walls of the Imperial Enclosure that spans for around 2.5km along the Perfume River. Other landmarks are the citadel's main entrance, the Ngo Mon Gate, the Thai Hoa Palace with its intricate interiors, Dien Tho Residence which serves as the Queen Mothers' chambers and lastly the Hall of Mandarins housing its' well-preserved ceiling murals.
7. Da Nang
Da Nang will surprise you by its modern, cleanness and nature. Da Nang has so many things to offer from Hai Van Pass, Marble Mountain, Ba Na hills to the Golden bridge. The fresh and beautiful white sand beach also Nang are also one of the reasons to hold tourist stay longer at this city. The amazing traditional food here is also one thing visitors could not resist.
8. Hoi An
Hoi An is the place where not only attracting newcomers but also encouraging many tourists to come back again. It is famous for being an ancient town where the rustic yellow-walled tubed buildings line up. The town was built and developed by the Japanese, Chinese and Vietnamese in which the Chinese architecture is the main theme throughout the whole site. The most sought-after destinations are the Thanh Ha Pottery Village, Tra Que Herb Village, and Kim Bong Carpentry Village. Besides, there are plenty of restaurants with lots of variety at cheap price, the night markets are great and the people are lovely. It truly is a paradise for visitors to go and explore.
9. Ho Chi Minh
Ho Chi Minh City – Ho Chi Minh City is such a young and modern city born and raised for roughly over 300 years. Traveling here, you will see the attractions influenced by the French-era architecture such as Vietnam's own Notre Dame Cathedral, the War Remnants Museum, and Ben Thanh Market. The Central Post Office, Reunification Palace are also visited by travelers. Let's not stop here, Sai Gon by night attracts you by its vibe and personal charming, please wander around Bui Vien streets, or taste local cuisine such as Huynh Hoa Bread (Banh my Huynh Hoa), Sauce Noodle (Bun mam), Nam Vang vermicelli (Hu tieu Nam Vang), Crab noodle (Banh canh cua), grilled pork noodle (bun thit nuong0, etc. Ho Chi Minh is also as a stop-over for tourists of they want to visit Mekong Delta, Cu Chi Tunnel, Cao Dai temple, Vung Tau and the other southern provinces.
10. Phu Quoc
Unlike Bali or Thai Lan, Phu Quoc is an isolated tropical island located down South of Vietnam with 150km of coast in which you can reach there by plane at Phu Quoc International Airport. Phu Quoc is well known with many white sandy beaches and a perfect combination from mountain to forest and sea. With such a balmy weather, Phu Quoc is a good choice for all travelers who love nature and seek for a place to balance sightseeing and beaches. You can spend your time at your luxury resort or walk along the sandy beach to enjoy the fresh air or dipping yourself under the fresh green water of the sea. At the end of the day, Phu Quoc will end up with the colorful sky to complete your day with such a customized romantic dinner next to the beach. Travelling to Phu Quoc will bring you pleasant and relaxed.
If you plan to travel Vietnam in the upcoming time, do not miss those destinations mentioned above. Let Vietnam travel help you to design a life time vacation. We –Vietnam Travel Tour organizes private tours to Vietnam and visitors escorted by our professional guides will get chance to explore many interesting places. Ask travel questions, get travel help related to top Vietnam tourist attractions and adventures, please feel free to contact Vietnam Travel Tour's tour planners today.