Ba Be National Park – Things To Know
Ba Be National Park, often referred to as the Ba Be Lake, is situated in Bac Can Province, about 240 km from Hanoi. It spans over 23,000 hectares of beautiful waterfalls, deep rivers, valleys, lakes and caves, all set amongst towering peaks. The whole area is home to many ethnic communities too. The prominent Ba Be Lake is in fact three lakes linked by wide channels, about 8 km in length. The surface of the lake is always calm and perfect for a relaxing boat trip downstream. In 2004, Ba Be National Park was recognized as an ASEAN natural heritage. Many incentives and joint venture programs have been implemented to promote the park's tourism.
1. Overview

Ba Be National Park is a complex of rivers, lakes, and lowland evergreen forests on limestone mountains which nourished by three rivers of Ta Han, Bo Lu and Leng, creating high biodiversity. Regarding plants, Ba Be National Park has 1,268 species, including many valuable and rare plant species recorded in the Red Book of Vietnam and the World. The precious and rare species of timber trees such as: "Nghien", "Dinh", "Lim", "Truc Day" and "Lat Hoa"; in which, "Truc Day" is special bamboo species of Ba Be that often grows on the cliffs, creating a very beautiful landscape. The national park is also evaluated by domestic and foreign scientists as the highest diversity and endemic center for orchids not only in Vietnam but also in the whole of Southeast Asia. The fauna and fish system is very rich with 470 species of vertebrates and 106 species of fish.
The center of the park is Ba Be Lake, which is located at an altitude of about 178m above sea level with a length of up to 8km and a width of 500m. This is the largest and highest natural freshwater lake in Vietnam. Ba Be Lake is also considered "a natural mountain lake with significance benefit in Vietnam". Ba Be means "three lakes", the Tay people called it "Slam Pe" (Pe Leng lake, Pe Lu lake and Pe Lam lake). Ba Be Lake is a continuous lake with countless small streams, stretching nearly 8km in the North to the South direction. Because of this magnificence, Ba Be is sometimes referred to as "Halong Bay on land".
In 2011, the park was recognized as a wetland area of international importance, ranking 3rd in Vietnam and 1938th in the world.
Related Article: Best National Parks in Vietnam
2. The legend of Ba Be Lake

Once upon a time, an old woman beggar came to the village. Wherever she went, she always said: "I'm hungry. Please extend your mercy." But nobody gave anything to her, and they were scared of her and fled. Fortunately, there was a widow and her son who were not disgusted the ragged and tattered beggar, and let her into the house to eat and sleep. At midnight, the mother was suddenly started awake by the snore of the beggar. As soon as she opened her eyes, she was petrified to see a large dragon sleeping, not an old poor woman. The mother shivered but did not dare to cry, fearing that the dragon could swallow her and her son. At the crack of the dawn, the mother did not see the dragon in the house, instead, the beggar woke up and ready to go.
When saying goodbye to the widow and his son, the beggar gave the mother a package of ash and said:" Vicious people should be severely penalized, but I'll help you – kind people. Sprinkle the ash around the house tonight. If you want to go out, climb to the high mountain". After that, the old woman picked some patties from her pocket and said: "Bite the patties to take out the rice. Rice helps to protect you from starving, and husk helps save your lives."
Having said this, the old woman disappeared. Doubtfully, they told their strange story to the villagers, but nobody believed them. That night, in the middle of the celebration, water spouted from the ground. In just minutes, everything was flooded in water. Magically, only the house of the widow and her son was affected. Remembering the advice of the beggar, the woman dropped the husk into the water, and the husk suddenly became a dinghy. They were sailing to rescue the villagers, so nobody died.
The place the water spouted from the ground is now called Ba Ba Lake.
3. Best time to visit Ba Be

Spring and winter (dry season) are the best times to visit Ba Be Lake. The weather is pleasant come August and September but it's by far the most crowded season for the park. However, it is still worth to visit Ba Ba Lake in the green season.
4. How to get to Ba Be National Park from Hanoi

Ba Be National Park is 240 km north of the capital city Hanoi in Bac Can Province. To reach Ba Be, visitors can drive about 6 hours on road but the excellent scenery is definitely worth the trip! Travelers can take a local bus, ride a motorbike or but for those who prefer privacy, booking a private car with Vietnam Travel Tour is the best choice for an ideal trip from Hanoi to Ba Be National Park.
5. Accommodations

Visiting Ba Be National Park and staying with a local family in a homestay is practically a must if you want to have the most authentic and enriching experience possible. There are plenty of local minorities running a cluster of homestay accommodations in a designated area of Ba Be National Park. They're simple but clean and comfortable with shared bathrooms. Some of the common names are Mr Linh's Homestay, Ba Be Lakeview Homestay, The Sang Homestay, Quynh Mai Homestay, Ba Be Green Homestay… Accommodation included meals and starts at around 15 USD/ person/ night.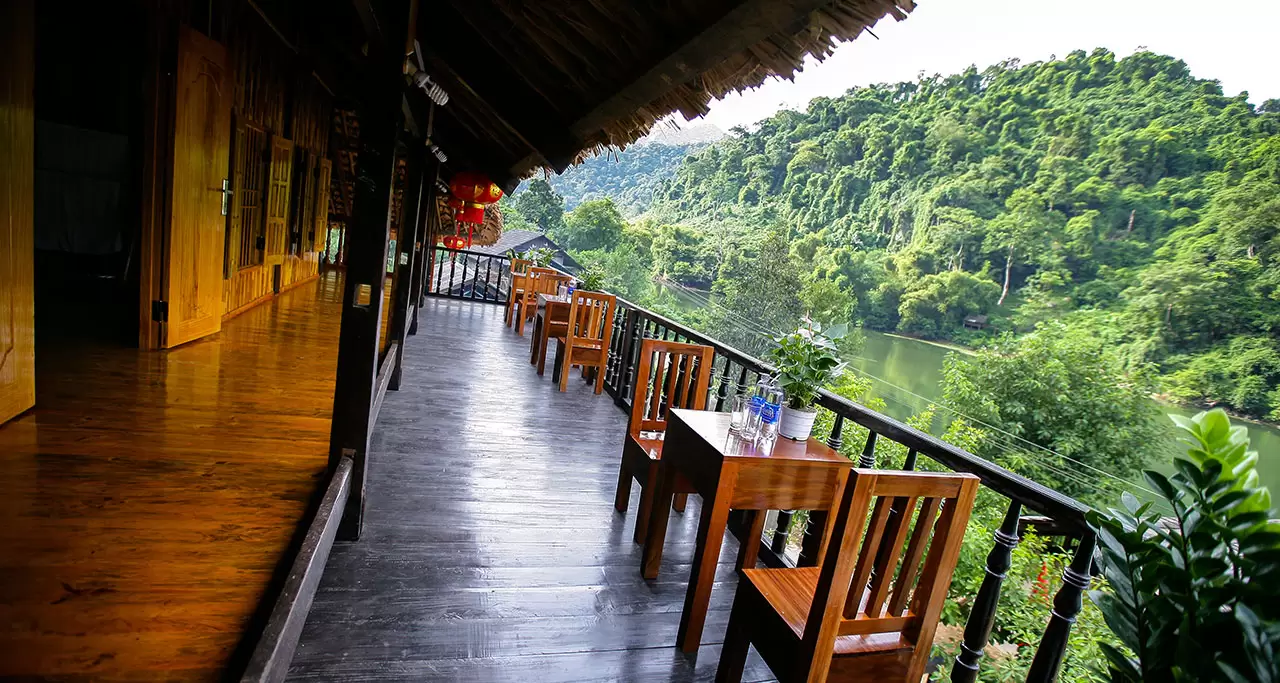 There's also a state run style guest house (Ho Chi Minh City – Ba Be Resort) at the entrance to the National Park but we think that it makes no sense to stay there when you can get closer to the action of the park as well as the local people at a homestay. But if you like something a bit privacy and more standard, you can stay there.
Another option is stay at a lodge: Ba Be Lakeside Bungalow but is not to everyone's taste. The lodge lacks some of the basic features and services of a standard hotel. For example, bungalows have no TV as their aim is to enable guests to completely escape from everyday life and immerse with nature – a rustic experience.
6. What to do in Ba Be National Park
– Sightseeing: For a sightseeing tour of the northeast region, a fantastic place to start is Ba Be National Park in Ba Be District, Bac Kan Province. There is a huge amount to explore here, with a vast variety of flora and fauna, as well as interesting geology and landscapes to discover such as Fairy Pond, An Ma Temple, Dau Dang waterfall, etc.

– Kayaking: One of the best ways to get a feel for this area is kayaking on one of the three lakes. This activity is for ones enjoying more adventurous and guided motor boat tours for those who want to relax a little. Paddling through the islets to discover hidden caves and visit fishing villages. Besides, you can get closer to the limestone karsts, and find some secret corners of Ba Be lake and the Nang river. An added benefit of kayaking is that they can get close to karsts and into the caves that are not suitable for bigger boats. The lack of engine also makes this an eco-way to travel without causing air or noise pollution.

– Trekking and Hiking: Ba Be is considered by both native Vietnamese and visitors to be one of the best trekking areas in the country. The whole district is dominated by the Pia Booc mountain range at a height of 1527m. The variety of the scenery is impressive from rich vegetation to stunning rice fields carpeting the mountains. This activity is also ideal to meet the locals and share experiences with them when you stop for a drink or lunch. A tour guide is a plus as they know the best routes through the park and will be able to take you to the best spots while sharing stories about the park, the ethnic minorities and its fauna.
– Biking: Ba Be is great for exploring by bicycle. Sports bikes can be rented at this area by your tour guide. The main roads around the national park are mostly in good condition and do not have much traffic. One day cycling around the park should enable you to visit Hua Ma Cave, Thac Bac Waterfall and some villages.
– Fishing: The local communities here use ancestral techniques to fish on the lake. They fishing from a very thin and long boat to catch shrimps and catfishes. If you enjoy fishing, this activity can allow you to get a private insight into the local rural life in Northern Vietnam, and share fishing skills with the them.
– Meet the ethnic minorities: There are three main ethnic minorities in and around Ba Be National Park: the Tay, the Dzao and the H'mong. They form communities ranging from small clusters of just a few split houses to larger villages. Pac Ngoi village is the worthiest village to visit in Ba Be. Pac Ngoi is home to a large Tay community with more than 40 traditional stilt houses located on a mountain hill. These traditional houses are still well-preserved in Pac Ngoi just like the Tay culture here is still practiced by the ethnic people. Another village in which to meet some friendly and welcoming local people is Na Nghe Village. This small Dzao village is well worth the hike, after trekking through the wilderness with only the sounds of nature you will be rewarded with stunning views of the valley below. However, H'mong communities tend to be more isolated but still have a strong sense of community.
– Long Tong Festival: Long Tong festival is one of the oldest and most important festivals in terms of cultural values in Vietnamese culture. According to Tay and Nung language, 'Long Tong' means 'go to the field'. This festival is a grand celebration to honor the first rice crop of the new lunar year. The ethnic send the wishes and faith to the gods for a year of good weather, harvest, comfortable life, health and happiness for all the villagers. On the 9th and 10th days of the first lunar month, people from all of the ethnic minority villages descend on the river bank, all dressed in their finest traditional outfits. The main activity of the Festival is God of agriculture worshiping. Exciting outdoor traditional games are rice cooking contest, singing contest, etc.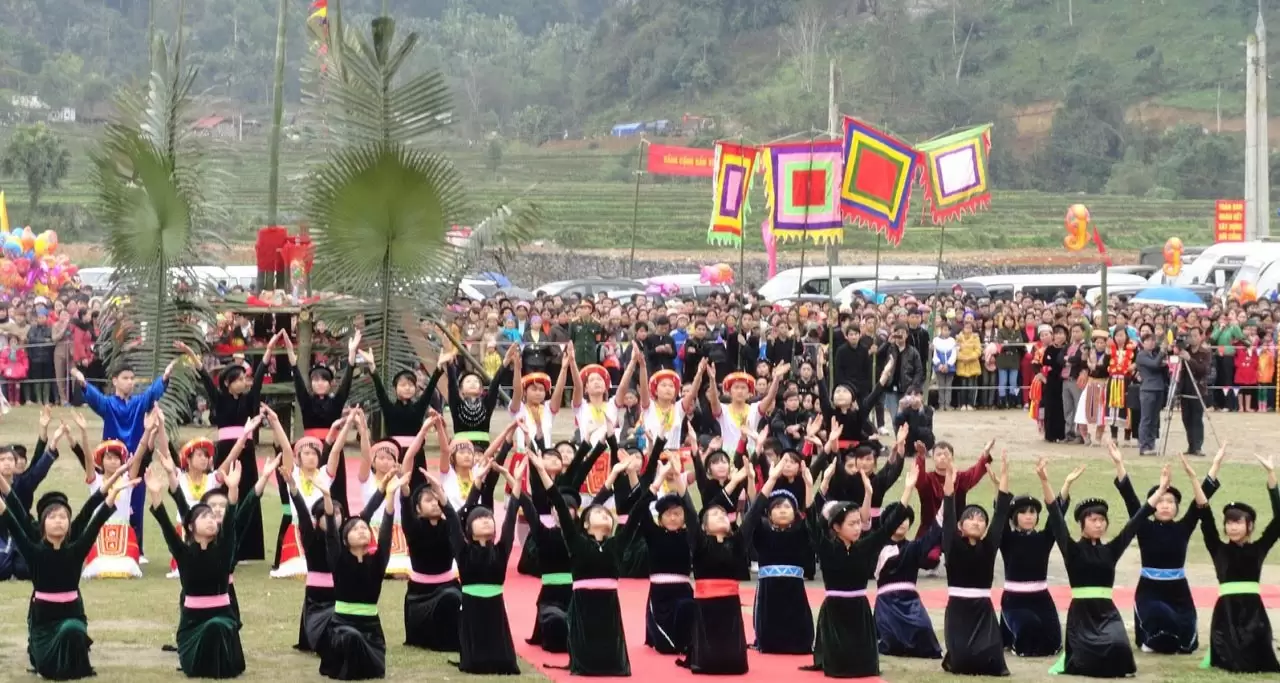 – Taste local foods: The food specialties are another reason to keep your stay in the area. There are too many to mention but "Lon Cap Nach" which translates to pig carried under the arm, so called because of the size of the pigs. These pigs are around just 10kg in weight and are raised wild in the surrounding fields and forests and have a sweet and tender meat. "Com Lam" or bamboo tube rice is another delicious for you to try. One side dish is chayote served with sesame. The mild sweetness of the green vegetable perfectly combines the nutty flavor of the sesame. During the feast, you will have a chance to try the local traditional rice wine called "Noc Suong". They may all be part of the feast you can enjoy at the table of your host. Some of the good local restaurants with a price range from $5USD to $15USD are recommended below:
+ Pho Nui Bac Kan restaurant: 11C Duc Xuan Ward.
+ Tam Cuong Bac Kan restaurant: Group 11, Song Cau Ward.
+ Boong Hay Bac Kan restaurant: Tran Hung Dao Street.
+ Cay Me restaurant: No 32, 8b Group, Tran Hung Dao Street.
+ Tinh Tuong restaurant: Phu Thong Town, Bach Thong.
Ba Be National Park has featured in hundreds of newspapers, magazines, forums and blogs, but nothing can prepare you for experiencing its intoxicating landscapes, crystal water and interesting local lifestyle. From Ba Be Lake, tourists can continue their adventures visit nearby attractions such as Ban Gioc Waterfall – one of Vietnam's Top 10 Waterfalls, Nguom Ngao Cave, Pac Po Historical Site, Trung Khanh and Phong Nam Valley etc. in Cao Bang Province. Traveling to Ba Be National Park is a truly off the beaten path adventure, with very few people fitting it into their trip in Northern Vietnam. Head here with Vietnam Travel Tour's Cao Bang – Ba Be Discovery or Northeast Vietnam Adventure and enjoy hiking, swimming and the homestay experience in one of the most beautiful parks in the country. Our Vietnamese travel consultants can also help you put together a personalized itinerary including transport and accommodation.