Train journey from Da Nang to Quy Nhon among Asia's six best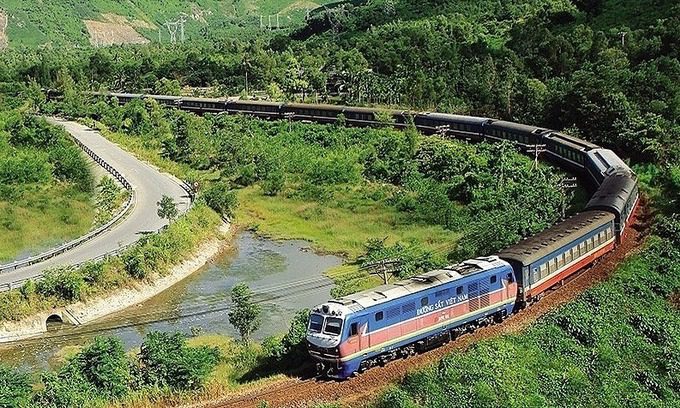 CNN has named a luxury train service through central Vietnam between Da Nang and Quy Nhon among Asia's six most amazing journeys.
The Vietage train departs Da Nang Railway Station, around 30 kilometers to the south of Hoi An, each morning, and makes the return journey from the south central beach town Quy Nhon every evening.
"The scenery is as peaceful as it is lush: water buffaloes graze in wide-open fields, humble villages flit by and impossibly green fields beg to be photographed," CNN stated.
"Onboard, marble tables, rattan screens and private booths evoke the romance of vintage rail travel."
Launched by Anantara Hotels in 2020, the six-hour train ride carries no more than 12 passengers that runs through popular tourist hotspots in Da Nang, Hoi An, Quang Ngai and Quy Nhon.
The train has six cabins, each with two seats close to the window, offering passengers onboard a breathtaking view of the green rice fields, mountains and sparkling coastline of central Vietnam.
A bar lounge inside the train. Photo courtesy of the Vietage
Da Nang has gained its fame for its long beaches and upscale resorts while Quy Nhon used to be the former seat of the Cham Kingdom and now an emerging tourist destination with sandy beaches and turquoise waters.
Tickets for the 323-km (200-mile) journey cost $350 per person one-way, including a complimentary three-course French meal with Vietnamese influences, free-flow wine and beer, plus a head and shoulder massage.
The other five train services included in the CNN list were the Belmond Eastern and Oriental Express journey from Bangkok to Singapore, Alishan Forest Railway service in Taiwan, Palace on Wheels across northern India, Seven Stars in Japan's Kyushu and Sri Lanka Main Line.
Vietnam's north-south railway, which traverses more than 1,726 kilometers (1,072 miles) between Hanoi and Saigon, the country's two biggest cities, was also listed by Australian travel guide, Lonely Planet, as one of the world's 10 'most amazing' routes in 2019.
Source: E.vnexpress.net